The first training session at the Centre took place on June 15th 2015.  Since then, the girls have been attending sessions a minimum of 2 times a week.  The girls come from a wide range of backgrounds. They have been divided into 2 groups, to facilitate proper learning.
Group 1 - Senior Secondary School Girls
Group 2, Junior Secondary School Girls.
Reinforcing Educational Foundations
We have noticed that the educational foundation of many of the girls is very weak - with some still struggling with spellings, basic Maths etc.  Consequently, the English teacher is spending quality time going through and reinforcing spellings of words.  The Maths teacher is focusing on basic addition and multiplication.  The girls appear to need this basic foundation irrespective of their previous class/form. We are paying significant attention to these fundamentals on a weekly basis.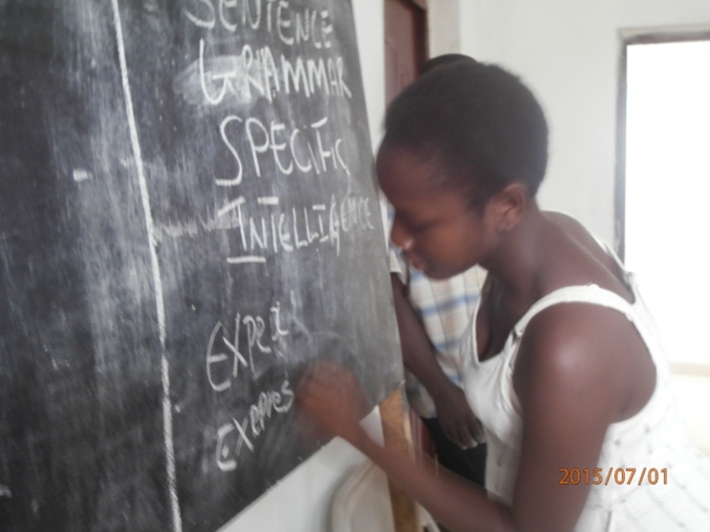 Counseling
Some of the ladies indicated that they grew up without proper parental guidance - leading them to make many decisions on their own and set up their own rules.  We are providing group sessions / discussions on Self Esteem. It is clear that the majority of the girls lack self-confidence and are in desperate need of building their battered self-image. The girls continue to ask questions that shed light on the importance of this subject.  
Pyscho-social counseling is also being provided with regard to relationships.
One of the most popular sessions so far has been Success Stories.  This session focuses on "Getting it Right, After You Have Got it Wrong". This session generates lots of discussion with regard to the process of overcoming poverty, failure and the reality check of achieving well defined goals. They girls are inspired after these sessions and make meaningful contributions.

 
---
Training Topics
The girls at the Centre are receiving training on the following topics.  The sessions often involve lengthy question and answer / discussion questions. Many of them are asking relevant questions during the sessions.   Training sessions are offered from experts in various fields such as nurses, trained Counselors etc.  ​Officials from the following institutions / organizations have provided / facilitated training sessions: Better Living Center, Youth For Christ, Mabala Community Hospital.
Healthy Pregnancy and Healthy baby

Recommended Food and Nutrition for Pregnancy 

Baby Care and Preparation for Motherhood

Literacy

Numeracy

Work-Related Skills (

CV / Resume Writing and Job Applications)

Goal Setting
Communication Skills
Health Matters / Basic Hygiene
Creativity

Managing your Own Money / Budgeting

Coping With Adversity

Self-Esteem

Games and Fun Time

Dancing and Exercise

Counseling

Success Stories
Feedback and Appreciation:
The parents, as well as the young girls, are being greatly encouraged. They continue to express their delight in such a worthy project. They extend their profound thanks and appreciation to the sponsors / partners for making this possible.